The
2007 SASS New Hampshire and Vermont State Championships
were held July 6-8th (Friday-Sunday) at the Pemigewasset Valley Fish & Game Club, Inc., Holderness, NH. There were 137 shooters defending Pemi Gulch.
2007 SASS NH State Men's Champion: Jimmy Spurs
2007 SASS NH State Ladies Champion: Pistol Packin' Punky
2007 SASS VT State Men's Champion: Island Pond Paul
2007 SASS VT State Women's Champion: Emma Goodcook
The Pemi Valley Peacemakers would like to apologize to Gun E. Bear and Island Pond Paul for the computer problem that lead to the confusion in the final results and the announcement of the 2007 SASS Vermont State Men's Champion.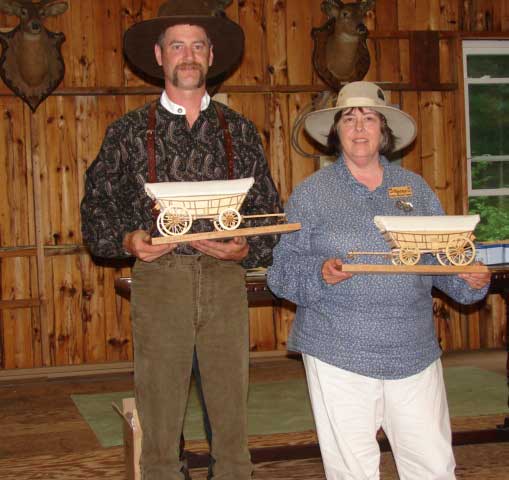 2007 SASS NH State Champions - Jimmy Spurs and Pistol Packin' Punky.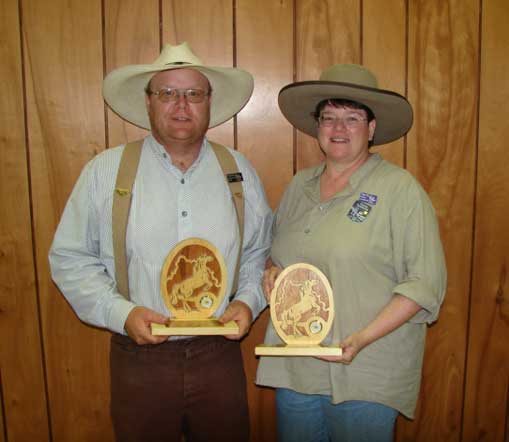 Island Pond Paul and Emma Goodcook - 2007 SASS VT State Champions.
Category Winners:
Traditional: Jimmy Spurs
49er: Brett Cantrell
B-Western: Calvary Kid
Classic Cowboy: Just Plain Larry
Duelist: Grazer
Frontiersman: Kidd Thunder
Frontier Cartridge: Capt. Morgan Rum
Frontier Cartridge Duelist: Callous Clyde
Frontier Cartridge Gunfighter: Dead Head
Gunfighter: Tick Ridge
Modern: No One
Senior: Chuckeroo
Silver Senior: Rowdy Bill
Senior Duelist: Bear Lee Tallable
Elder Statesman: Ike Shotgun McCoy
Ladies Traditional: Stormy Shooter
Ladies 49er: Annabelle Bransford
Ladies B-Western: Birdie Cage
Ladies Duelist: Nantucket Dawn
Ladies Frontier Cartridge: Miss Delaney Belle
Ladies Gunfigher: Wash-Tae-Wynn
LadiesSenior: Calico Jan
Ladies Silver Senior: May Rein
Grand Dame: Bonnie Dee
Junior Male: Sheriff Tyler
Junior Female: Sixgun Sable
Buckerette: Snazzy McGee

Clean Shoot (no misses, no P's:
Appaloosa Amy
Calvary Kid
Damascus
Grazer
Old Beaver Tooth
Ripley Scrounger
Tug Hill
Category Results Overall Results
Photos from the 2007 SASS NH/VT State Championships? Click here.

---
|
Home
|
Shoots
|
Results
|
Lodging
|
Directions
|
Posse
|
Photos
|
TG Page
|
Links
|
---